Two Bed Apartment Sleeps 6 Club Aegean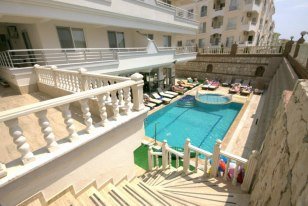 Apartment to rent in Didum Altinkum at Club Aegean on the Aegean Coast.
Fully equipted apartment with Satellite TV, including linen and towels (bring your own beach/pool towels and hair dryer).

Altinkum is also known as Didim, famous for its soft fine sandy beaches, as well as rich in history with the Apollo Temple Ruins just on the outskirts of the resort.

Altinkum lies on the Aegean Coast, with flights to Bodrum and Izmir. Airport transfers can be arranged, transfer take around 1 hour from Bodrum and 1 hour 45 minutes from Izmir.

The resort itself is full of restaurants, shops and little boutiques, as well as various agencies providing tours to different historic sites, such as Miletus, Pamukkale and Ephesus and many more.
The Temple of Apollo is located in Altinkum just a short walk from the apartment.

There is a water park is 10 minutes ride outside the resort on a dolmus. It has a host of pools, slides, and wave machines catering for all the family. Or for the more adventurous, take a spin in a go kart at Mavisehir just 5 minutes outside of Altinkum.

There are dolmuses (mini bus) that pass nearby the complex approximately every 10 minutes (200m), and take you in and around the resort for a cost of 40p.
There is the old town, with many fine traditional good value Turkish restaurants, serving a huge selection of Turkish cuisine as well as other restaurants serving international foods.
Altinkum is a resort where most of the restaurants offer a courtesy pick up and drop off service if you eat at their restaurant both in the day time as well as evenings.
Or take the dolmus for an evening trip to Mavisehir market and wine and dine in a harbour side restaurant.

Altinkum offers various shops tuck away in little side streets and alleys, as well as a huge Saturday market where all the locals shops for fruit/veg, crafts, materials, shoes, clothes, spices.